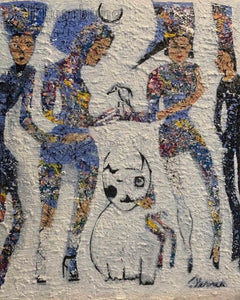 Description:
Medium:

 

Acrylic II Gesso
Material:

 

Canvas
Size: 16" x 20" (40cm x 50cm)
Painted in (year): 2019
Type: Figurative Art II 

Abstract Expressionism II Fine-Art II Surrealism

Artist: Persia
Persia is a self-taught artist with over 30 years of experience. She has been shown in different galleries all over the world. Persia has paintings online and continues to be inspired by colors and shapes. Her passion originates from her spirit, mind, and body. Please enjoy the small collection we are showing now.
Package includes:
1 Original Painting 

Ships in a Box

Free Shipping for the USA only (fee apply for international shipping)